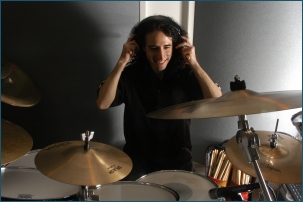 The diverse music scene of St. Louis provided a lucrative and versatile music scene in which to develop as a musician. There were many sources to draw upon to cultivate a varied musical background....and Mark continues to work hard at becoming a well-rounded musician.
A professional drumming career began while in high school, subbing on various gigs for his very in-demand drumset teacher, Steve Davis (Lynne Arriale Trio, Bill Evans, John Patitucci). This led to a variety of work playing jazz and contemporary music in the thriving St. Louis music scene, with such notable musicians as Peter and Jim Mayer (Jimmy Buffet) and bassist Steve Kirby (Elvin Jones). While still attending high school, he also played in Webster University's top jazz combo with saxophonist Todd Williams (Wynton Marsalis) and again with bassist Steve Kirby. Awards received during this time are the John Phillips Sousa Band Award, the Louis Armstrong Jazz Award, and several NAJE Outstanding Musician Awards from the many jazz band competitions. Elected band president his senior year of high school, Mark was also chosen as first-chair tympani in the Missouri All-State Band.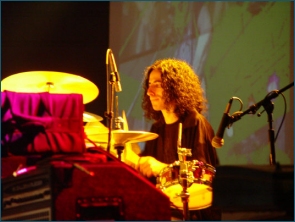 After a series of moves and playing numerous corporate and youth events throughout the U.S., the trek to Nashville was made at a very early age. Four months later, auditioning and getting the job with Bebe & Cece Winans served in further getting established into the music industry. The world tour spanned as far as Siberia, Russia, and was a catalyst that helped lead to many other tours.
A variety of live and recording work has followed for several artists, including:


Aaron Tippin
Adrian Belew
(King Crimson)
Alaskan Pipe Dream
Andy Griggs
Anita Cochran
Anthony Smith
Barbara Mandrell
Bebe & Cece Winans
Bob Carlisle
Cece Winans
Chris Tomlin
Cissy Houston
Clara Oman
Devin Williams
Dionne Warwick
Donald Lawrence
Dottie Peeples
Doug Kershaw
Due West
Eddy Raven
Helen Baylor
Hometown News
It's Only Make Believe
Jaci Velasquez
Jill Parr
Jim Nabors
Jeff Coffin
(Dave Matthews Band)
Jo-el Sonnier
Johnny Lee
Kathy Troccoli
Lila McCann
Lucy Angel
Luther Vandross
Michael Card
Michael English
Michael W. Smith
Melinda Doolittle
(American Idol)
mouthpiece
Pam Tillis
Patti LaBelle
Patti Russo (Cher, Meatloaf)
Sarah Darling
Shannon Brown
Stephanie Mills
Susan Ashton
Tammy Cochran
Tiffany
(80's pop icon)
Traci Ann Stanley
Tri-City Singers
White Heart
Whitney Houston

and other artists...
Mark continues to tour and do session work for a wide variety of artists, and is also involved in music production and songwriting. He has co-written a #1 song on the CHR radio charts, as well as a Dove Award nominated song.

For more touring and recording credits, please visit: Live Credits and Discography.